Why Cook with the Sun?
Written by Jennifer
Edited by Krystal Rogers and Bart Orlando
Research by Bart Orlando
The sun sustains life on earth; it is available to everyone daily. There is no cost for solar radiation. Using parabolic, box, or panel cookers means no gas or electricity costs. They are easy to maintain and just as easy to build. With a little planning and some basic mathematical calculations, anyone can own their own solar cooker.
But what are the advantages to using a solar cooker? Besides the economic savings, solar cooking helps in the fight against global warming and deforestation. By using the sun's rays to cook meals, firewood is saved and in many remote areas time is used more usefully than for gathering the necessary firewood needed for wood burning stoves.
In the remote areas of the world a solar cooker can be used to distill drinking water and feed villages. Many people in the world must survive on polluted surface water that is difficult for them to decontaminate. Solar cookers offer an easy solution to this problem.

Why Use a Parabolic Shape?
When a three dimensional parabola (i.e. a paraboloid) is aimed at the sun, all the light that falls upon its mirrored surface is reflected to a point known as the focus. If a black cooking pot is placed at the focus it will absorb the light's energy and become very hot. A satellite dish is an example of a parabaloid that can be made into a cooker. Parabolic Solar cookers heat up quickly and are used like a standard stovetop range to sauté or fry foods, boil water, or even bake bread. They can also be used to generate steam, power sterling engines, crack water to produce H2 gas, and even plasma matter.
It is easy to see in today's world that this shape is successful in its use. The parabolic shape can be seen in satellite dishes, radio towers, and yes, even in solar cookers around the world. It is simple to say it works, and just as simple to understand how it works.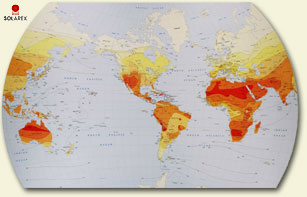 Solar Ovens

Solar cooking makes a lot of sense for the serious boondocker, especially if your coach does not have a propane oven. Not only is the cooking fuel renewable (at least for the foreseeable several million years) but the rig stays cool, the food doesn't burn and the pots cleanup very easily!
There is no great secret to cooking with the sun. Just about any recipe and any style of cooking can be accommodated to solar cooking. Any that is except frying (which really isn't good for you anyway, so...). Bake a chicken, whole or in pieces, breads and cookies, sauces, soups, beans, pot roasts...you name it. Temperatures in the Sun Oven brand solar cooker regularly
reach 300-350 F on clear sunny days. Need an evening meal but won't be home to cook it? Relax. Put the food in the cooker frozen in the morning, orient the cooker to sky where sun will be later, come home and take the food out! It can be that easy.
If we sound enthusiastic about solar cooking, it's because we are. We've been promoting and cooking with sunshine since 1992 and find it a perfect fit for the RV lifestyle. We've used cardboard cookers, panel cookers, homemade cookers and now the Sun Oven brand cooker. We found this manufactured oven to be the most reliable and efficient in terms of cost (under $200) and size (19"x19"x17" and less than 20 lbs) for the RV lifestyle. For more information on all kinds of solar cookers, checkout www.solarcooking.org, or contact us, Tom and Nancy Vineski at tnvineski@aol.com, voice mail (800) 652-0826. And always keep the SunnySide up!