HOTEL MARINA ATLANTICO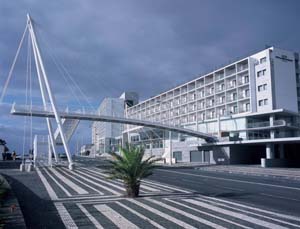 HOTEL MARINA ATLANTICO gets environment certification
4-star Hotel Marina Atlântico on Ponta Delgada has just gotten its environmental certification, in accordance with Norm NP EN ISO 14001:1999 and has been approved in the regulation of the Eco-Management and Audit Scheme (EMAS) by the certifying entity SGS ICS.
The goal is to reduce energy and water consumption and the production of residues, as well as efficiently use other resources, giving our guests products and services that respect the Environment.
Furthermore, Hotel Marina Atlantico invested in the training of its staff and in acquiring various equipments, such as the refrigerated residue room for organics, movement sensors, air conditioning sensors in the room windows, installatyions of volume reducers and water efficient toilets with a discharge control system.
With this certification of Hotel Marina Atlantico, the Bensaude Group reiterates its intention in developing quality tourism. This ongoing environmental effort started with the fisrt hotel unit nationally registered with EMAS - Terceira Mar Hotel, in Terceira Island - and the second one approved according to this Regulation.
Terceira Mar Hotel and Hotel Marina Atlântico are the only hotel units in the Azores to have this Environment Certification.