What are Self Regulating Heating Cables?
Since their introduction in 1971, self-regulating heating cables (also referred to as self-limiting heating cables) have become the most common form of electric heat tracing cable used in the world today. Heat Trace Limited are the only heat tracing manufacturer in the UK producing self-regulating heating cables and one of only a few worldwide. Heat Trace Limited is now considered to be one the leaders in heating cable polymer technology, with a range of self-regulating heaters that are technically superior to most of the other products currently available.
These cables can be used for a wide variety of applications including freeze protection of pipework and vessels; process temperature maintenance; heating of roads, ramps, walkways, etc; roof and gutter heating and under floor heating. See Applications page for more detailed information, or check out our range of self-regulating heating cables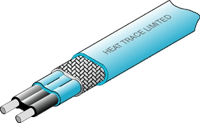 How do they work?
The cables consist of a semi-conductive polymeric matrix extruded between two parallel bus-conductors which serves as the heating element. A polymeric insulator jacket is then extruded over this core and an optional tinned copper braid, fluoropolymer or thermoplastic overjacket can then be added for additional mechanical and/or corrosive protection. A current is passed through the cable and as the temperature of the conductive core increases, so does the electrical resistance
The result is that the output of the heater decreases as the temperature rises (see image below). Since power output of the cable is a function of the temperature at any location in the element, the conductive core behaves like a temperature rheostat guarding against low as well as high temperature failure.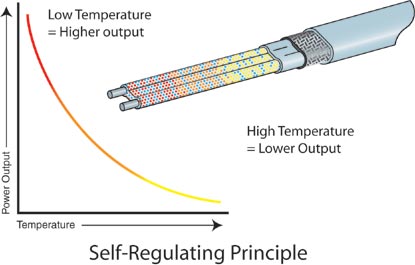 Self-regulating heating cables cannot overheat or burn out - even when overlapped upon themselves. This makes them inherently temperature safe. The heating cable can be cut to length on site and exact lengths can be matched to pipework without any complicated design considerations. The installation of these cables require no special skills or tools and can be carried out efficiently. Heat Trace also supply Ancillary components for use with all of Heat Trace self regulating cables.