Grandview Inn Hotel Fire
A morning fire rips through a hotel in South Point, Ohio and by mid-afternoon the blaze was still burning.
The manager of the Grandview Inn called 911 after seeing smoke coming out of the kitchen storage area. It's a wake up call a hotel guest never want. Investigators say the flames spread through the building between the ceiling and the roof, eventually shooting through the roof.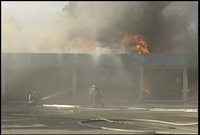 Battling the blaze presented a series of problems for firefighters. There isn't a fire hydrant in the area, so tankers had to bring in water as guests and employees watched the structure burn. The Ohio Fire Marshall says the blaze fire caused 2 million dollars in damage. Investigators plan to return to the scene and sift through the rubble to find a cause. Fortunately all hotel guests safely evacuated from their rooms, So no one got hurt. Ironically, the hotel was in the process of a regular annual inspection by the Fire Marshals' office.